When schools were asked to close a few weeks ago, we recommended that parents used the materials provided by White Rose Maths designed for home learning, as they fitted with the way we teach Maths in school, followed the same progression and included video lessons and worksheets.
However, it has been brought to our attention that White Rose are now asking parents to pay a subscription to access these same materials. As a school we have purchased a subscription that allows us to post the video links and worksheets to our own website. These links are now available on each Class page within the website. This weeks lessons have been added, and new lessons will be added on June 1st, after half term. The materials included are intended to consolidate learning from this year and prepare children to be ready for their Maths learning in September.
There are also other resources for home learning in Maths, that are free to use. The Oak National Academy are publishing daily Maths lessons and online activities that follow the same progression, and BBC Bitesize are also publishing similar materials. We recommend using either or both of these to support your child's or children's leaning at home. (Click on the blue text to go to the sites.)
Fractions-in-the-National-Curriculum-2019
Calculation Policy – January 2019
Calculation-Policy Guidance 2019
At St Andrews, we are dedicated to raising the standards of children's Mathematics by fostering a love for the subject.  Maths is taught in an exciting, fun and cross curricular way which encourages children to take ownership of their learning. Our maths is based around the concrete, pictorial, abstract (CPA) which is a highly effective approach to teaching that develops a deep and sustainable understanding of maths.  We believe that children's chances of succeeding in education and life will be maximised if they develop deep and lasting procedural and conceptual mathematical understanding. 
 We are aware that children can maths difficult because it is often abstract. The CPA approach helps children learn new ideas and build on their existing knowledge by introducing abstract concepts in a more familiar and tangible way.
An overview to the CPA maths approach: 
Concrete is the 'doing' stage, using concrete objects to solve problems. It brings concepts to life by allowing children to handle physical objects themselves. Every new abstract concept is learned first with a 'concrete' or physical experience. For example:
There are 8 flowers in the vase. Hannah has 2 flowers in her hand. How many flowers are there altogether?
In this problem, the children might first handle actual flowers – the concrete stage – before progressing to handling counters or cubes (like Numicon) which are used to represent the flowers.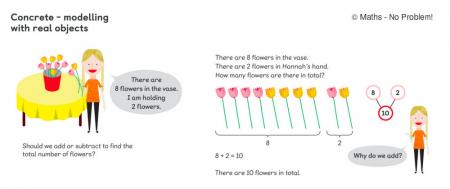 CPA maths approach: pictorial
Pictorial is the 'seeing' stage, using representations of the objects involved in maths problems. This stage encourages children to make a mental connection between the physical object and abstract levels of understanding, by drawing or looking at pictures, circles, diagrams or models which represent the objects in the problem.
Building or drawing a model makes it easier for children to grasp concepts they traditionally find more difficult, such as fractions, as it helps them visualise the problem and make it more accessible.
For example, for the above problem, the pictorial stage would involve using drawings of flowers, or pictures of objects such as multi-link blocks or counters, to represent the actual object.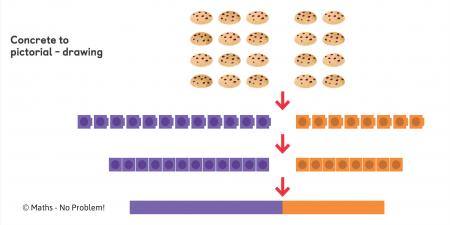 CPA maths approach: abstract
Abstract is the 'symbolic' stage, where children are able to use abstract symbols to model and solve maths problems.
Once a child has demonstrated that they have a solid understanding of the 'concrete' and 'pictorial' representations of the problem, the teacher can introduce the more 'abstract' concept, such as mathematical symbols.
Children are introduced to the concept at a symbolic level, using only numbers, notation, and mathematical symbols, for example +, –, x, / to indicate addition, multiplication, or division.
So, for the following problem:
Jim has 12 cookies. Julie has 8 cookies. How many do they have altogether?
Children at the abstract stage would be able to solve the problem by writing it out as 12 + 8 = 20.
At St Andrews we teach with in order for the children to MASTER maths, we teach for Mastery.  
What does it mean to master mathematics?
When a mathematical concept or skill has been mastered is when a pupil can represent it in multiple ways, has the mathematical language to communicate related ideas, and can independently apply the concept to new problems in unfamiliar situations.
Mastery is a journey and long-term goal, achieved through exploration, clarification, practice and application over time. At each stage of learning, pupils should be able to demonstrate a deep, conceptual understanding of the topic and be able to build on this over time.
This is not about just being able to memorise key facts and procedures, which tends to lead to superficial understanding that can easily be forgotten. We aim for all our pupils to be able to select which mathematical approach is most effective in different scenarios.
Throughout every child's journey at St Andrews we aim to foster a love of learning and the tools to succeed and be the best they can be.